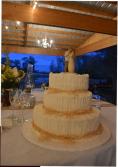 Cakes of All Kinds...

The only limit is your imagination! From birthday cakes, special event commemorations to our fabulous wedding cakes, the best thing is that they taste great too.

All cakes include a consultation with our cake designer so that we know it is created just the way you like. We can match any color theme and design, stacked or tiered, floating or cupcakes!